How will you put fairy lights on curtains?
Many people like to decorate their homes and make them look nice. On the market, there are many different kinds of lights. We use these lights in various places around the house. We'll tell you how to put fairy lights on the curtains in this post. We have curtains on the door and windows of our home. There are certain steps to follow to put up fairy lights. We should do what they say to put these lights up.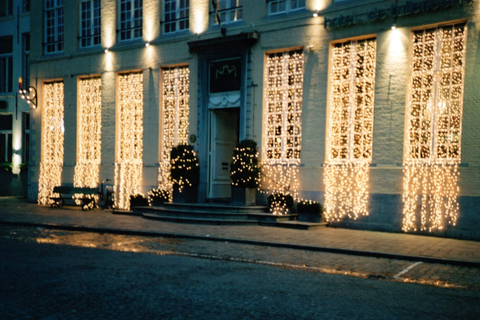 Take measurements of the room and buy lights that fit it. There will be one long cord that you need to hang at a horizontal angle from vertical cords or wires. Some curtain lights come with the hardware you need to hang them. If not, you can use cup hooks. You can drill small holes close to every strand and then screw the cup hooks in.
of couse, we  can put curtain lights up on any wall or top of a window.  or we can hang them in front of or behind a set of sheets. They also look great in front of and behind another window. You can hang them anywhere; even in entryways, they look cool.
If you don't want to make holes in your wall, don't use tape because it isn't strong enough. Moreover, it can cause damage when you pull or peel it off. Try hooks that stick and won't leave any marks instead. Some will lose their stickiness over time, so you'll need to test them every few months. Command hooks, Crafts House hooks, and ATB Clear Light hooks are all often suggested.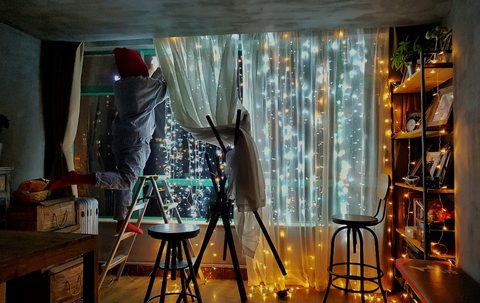 Some more suggestions for hanging lights on curtains
Pull the curtain lights out of their package, being careful not to break any of them. Hang one hook at the end where you want the lights to be the farthest away. Mark the wall and make more marks where you want the rest of the hooks to go. Measure the lights to see how far they go.
You can hang the light cord on the hooks and let the strands hang down. Sticky hooks are good because you can take them off and move them if you need to. If the string doesn't look even, or you want to change it somehow, you can take the hooks off and put them back on.
A video will help to put lights on the curtain.
Why do people like the curtain lights?
Many people like curtain lights because they look magical and enchanting. They aren't part of a curtain, and they don't block out light as curtains do. Instead, you can use them for decoration. Many vertical strings of lights will help to make them. The effect looks like a stream of lights that are blinking.
How do curtain lights work?
You can put these lights anywhere there is an outlet, inside or outside. If the lights' power cord doesn't reach that outlet, you'll need an extension cord. You can also find USB- or battery-powered curtain lights of different sizes and colors. You should select according to your need. This can be more convenient. You should find LED lights that you can set to flash, fade or twinkle in different ways. Other good choices are remote controls, bulbs, and cords that don't get wet. These lights turn on when they hear the noise.
Curtain lights make homes feel nice during the holidays. But there is no reason you cannot keep them displayed throughout the entire year. It's because people can't buy these lights all year round. Adding colors, patterns, and textures to a room will look amazing. Curtain lights are a nice touch for special occasions and events. A well-placed set of curtain lights can completely change how a room or outdoor space looks and feels.
How do you Tie Back a Curtain with a Tassel and a Rope?
You will need to have the following items:
Pencil
Suction cups
Trim cord is thick
Tassels for decorating
Glue gun
Using the same thin cording
Rope tiebacks with tassels make a formal window treatment look better. They make the room look more interesting, and you can use them to add a pop of color. They are also a useful way to control how much light comes in through the curtains. There are a lot of different colors of trim rope or cord. Tassels come in various colors and styles, from solid to striped to smaller tassels. You don't have to sew to make tiebacks with tassels. You can attach them with tassels by using glue.
Make a small pencil mark on the inside of the window frame at the height you want the curtain tieback to be.       

Screw a cup hook into the window frame at this mark by turning it clockwise. Make a small starter hole with a small drill bit to make this step easier.
Tie a piece of cord around the curtains to decide how long the tiebacks should be. You can hold it up with the cup hook. Cut the cord so that it is this long.
Untwist the cord ends a half-inch. Glue the cord at the top of the tassel that you will use to hang it in the middle of the two separate cords. Cut off any hang cord that is too long. Pull-on the cord when the glue is dry to make sure it is well attached.
Twist the cord back together and put a little more glue on it to hold it in place. Wrap the thin cord around the twisted cords to hide it and complete the look of the tieback. Sew or glue the end down to keep the thin cord in place.
Do the same thing with the other end of the cord and a second tassel. Loop the cord over the cup hook, then wrap the ends around the curtain and tie them in a square knot.
What is the width of the tassel?
The width of your tassel should be three to five times as wide as the width of your cord. Between the knot and the tassels, leave a few inches of cord.
How do you put blackout curtains together?
What will you need material to put blackout curtains on?
Curtains
Curtain hooks
Darkening panels
Magnetic strips
Instead of buying blackout curtains, you can attach blackout panels to existing curtains. Blackout panels make it so that light can't come in through the windows. These panels are available online, in department stores, and anywhere that sells curtains. People who work late shifts and need to sleep during the day should choose a dark room. Blackout panels also keep out more heat and cold than regular curtains do. This makes them more energy efficient. These panels are useful, and you should use them.
Take down your curtains and lay them out on the floor with the fronts facing down. If you don't have enough room on your floor, spread the curtains out on your bed or table.
Slide the pin part of the curtain hooks through the curtains to attach them to the curtains. You should leave a space about 3 inches between each hook. If your curtains already have hooks on them, you don't need to do this.
Put the blackout panels right on top of the curtains. It would be best to look inside the blackout panels for a looped thread line. It will run across the top and the panel's width.
Line up the hooks with the looped thread without hooking them in. Glue the magnetic strips that came with the blackout panels into the side pockets. When you shut the curtains, the magnetic strips will stick to each other and block out the light.
Line up the edges of the curtains and the blackout panels. Find the loops on the blackout panels and put one looped thread on each curtain hook.
Slide the curtains back onto the rods. Put the rods back on the wall brackets and hook them back on to hang the curtains.
How will you make curtains with strings?
You should these items:
Sewing machine 
Scissors
Thread
Material
Sewing pins
Rod for curtain
Cord or Ribbon
It can be hard to find curtains that go with the colors in your home. When you find the right color, the curtains have to be the right size for the window you want to cover. If you need more than one set to cover more than one window, there might not be enough in stock. If you make your curtains yourself, you can choose the color and size. Moreover, it will save money at the same time. You can also buy enough material to cover every window in your house. You can get the right style and fit for your home and match all your colors.
Choose the Material and then use it.
Find out how long the window is. Put your curtain fabric on a flat surface. Before you cut the fabric, add 5 inches to the top and bottom of the curtain to make room for the seams. Get rid of the stuff. For this project, you will need two of these curtain panels.
 Cut the Ribbon of the desired color.
Cut a piece of Ribbon or a cord of the same color to use as a drawstring. When the curtain isn't gathered, the drawstring needs to be twice as long as the width of the curtain panel.
Stitched Seams
Close the curtain's side seams with stitches. Measure 5 inches down from the top of the curtain. At the 5-inch mark, fold the fabric and pin it in place.
Measure over the Seams.
Make your first seam at the top. Measure 1 1/2 inches above the seam when you're done and sew another seam on top of the first one.
Stitched cord
You can thread one Ribbon between the two seams at the top of the curtain. Attach a safety pin to one end of the Ribbon and work it to thread the Ribbon through.
Adjust the length of the curtains.
Attach the Ribbon to one end of the curtain and use the other end as a drawstring. Run the rod through the pocket at the top of the curtain to hang it on a rod. Adjust the length of the curtains. To open the curtains, pull them back. Make a fancy knot with the Ribbon to hold them in place.
Make a style with colorful string lights.
Add style to a sash by tying it with a colorful string. Make sure your furniture, rugs, and curtains all look good together. You can make the curtains sparkle by adding beads or gems to them.
Do fairy lights pose a safety risk?
Well, fairy lights aren't usually thought of as a security risk. But due to some reasons, we can't say that they are 100% safe. Most of the time, they don't use a lot of electricity and aren't made in a way that could cause a lot of trouble. They don't need a lot of power to work, which makes them safer than some other electronic devices.
It will help if you are careful not to overload your socket. This means that you should try to plug your fairy lights into a socket where they will be the only thing plugged in. Even fairy lights could cause a short circuit or give you a shock, like any other device. But this is not very likely, though not completely impossible.
You must check out for bad installations. Poor installation of fairy lights is more likely to break. But the risk of electrical problems is very small if you have good wiring and haven't overloaded a socket.
Fairy lights aren't usually a fire risk when it comes to heat. They don't use much energy and don't make much heat, especially the LED models. But this doesn't mean that they couldn't start a fire under any circumstances.
Fairy lights aren't usually a fire hazard, but they could start a fire if you leave them in flammable places. As a result, you will get a lot of damage. 
In other words, they can work all day in theory, but it's not a good idea to do so to make them last longer. This method cannot reduce the risk of overheating and electrical damage. Since most electronics could run all the time, they aren't meant to be on, so you should use them at a moderate level. It's best to use them in this way.
Can you put fairy lights on fabrics and other things that look like fabrics?
In general, yes. Fairy lights don't pose a big fire risk, so it's usually safe to put them on fabrics. Those fabrics are curtains and clothes. We also put the wood and trees in the previous category. Although, people consider them flammable.
You should be safe if you remember what we told you in the last section of the post. But if you don't follow the directions and instructions, you may get damage. It is best if you will not put them near something that can catch fire.
Can you leave fairy lights on all night? 
As we've said before, there is a small chance that fairy lights can start a fire, but there is still a chance. Even if your fairy lights are good quality and do not overload a socket, you should not leave them on all night. Even if you are going out of your house, you should not leave them on.
If you put fairy lights on a Christmas tree, the chance of a fire is even higher. A tree can be dry, making it a great way to start a fire. In conclusion, there is a chance that fairy lights could start a fire, even though the risk is small. So, make sure to unplug fairy lights before going to sleep or leaving your apartment.
Conclusion:
Using lights to beautify your home is an endless pursuit. To summarize, people use different lights for their decorations. There's no room in the house without curtains. Adding lights to the curtain makes the window even more stunning. There are many options for decorating the curtain with fairy lights. In this post, I've described a few of them. Safety is very important. So, you must follow the safety measures when you use fairy lights. Check out our website for other creative ways to decorate with lights.
References
Are fairy lights safe to leave on and will they catch fire? (2021, February 12). TechCrawlr. https://techcrawlr.com/are-fairy-lights-safe-to-leave-on-and-will-they-catch-fire/
Does sonic take Apple Pay in 2022? (2022, May 5). TechCrawlr: FinTech, WebTech, VR, Meta, Gadgets, Consoles. https://techcrawlr.com/does-sonic-take-apple-pay/
How to attach tassel Tiebacks to curtains. (n.d.). eHow.com. https://www.ehow.com/how_7532096_attach-tassel-tiebacks-curtains.html