How will you hang fairy lights on the walls?
 You can transform the appearance and atmosphere of your apartment using fairy lights. Don't want to use too many lights for holiday decor? These small lights on a string are the best choice.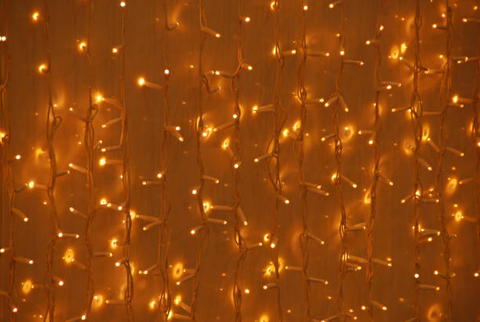 Many people find that putting up fairy lights in small rooms is easy to get into the holiday spirit.
The timer is the most important thing to look for when shopping for fairy lights. We sometimes forget to turn off the lights when we're not using them. Also, people don't notice them because they look nice. As a result, it drains the power from their small batteries. There are many fairy lights, like curtains, polaroids, and simple lights.
These lights are so pretty, so you don't need anything else to hang them on your walls. Only add lots of fairies. I'll show you some easy ways to hang fairy lights on your walls without using nails in this post. We can help with the party, holiday, and background lighting ideas.
Different kinds of fairy lights
Fairy lights come in all shapes and sizes, from balls to stars. There are only two main types: plugins and those that run on batteries.
Plugin Lights
Like many lights, plugin lights never run out of battery power. Like our Wire Garland Lights, you can buy longer, bigger, or more complicated designs. You don't need to worry about running out of power every few days. But when it's time to hang your fairy lights, it's crucial to think about how and where you want to install them. You'll need to be close to a plug socket or buy a surge-protected extension cord to reach it.
Lights that run on batteries
Battery-powered fairy lights allow you to disconnect from the electrical grid completely. Now, you can hang them anywhere in your living room and all over the house, opening new ways to be creative. The only thing you need to worry about is hiding and securing your battery packs. It is because if you let them dangle, the wires can break.
What types of safe fairy lights do you use on your walls and other surfaces?
It would be best to use lights that are the right size for what you're putting them on. Standard-sized fairy lights or Christmas lights on a large tree or wall may look fine. They will appear too large on smaller objects such as houseplants and small mirrors. It would be good to use tiny fairy lights with tiny bulbs for these things.
Fairy lights that plug into an outlet look great on walls and trees.
Battery-powered fairy lights work best for small things like mirrors.
Netted fairy lights are of a standard size. They will make them ideal for larger objects such as ceilings and bushes.
Do you want to match the color of the wire to the item's background? 
You can do it because most fairy lights have a green wire for Christmas. It might look great on a tree, but it won't look good on a wall or around a mirror. Instead, choose fairy lights with wires that match the object from which they will hang. For instance, if you want to hang fairy lights on a white wall, you should choose ones with white wires.
Try fairy lights with silver or gold wire if you can't find any. Stay away from Christmas lights with green wire.
You can hang the lights up with nails, thumbtacks, or clear wall hooks. How you hang the lights depends on what you're going to do with them. Everyone wants to save their things. If you're going to hang things on the wall, mirror, or on a shelf, you'll need clear, self-adhesive wall hooks. A command hook is an example of those hook. Use nails or thumbtacks for everything else, even outside. 
Match the nail or thumb tack's color to the wire's color.
Put the nails or thumbtacks into the spaces between the twisted wires. Don't drive them into the wires.
Place lights that plug near an outlet. If you don't have access to an outlet, you can use a matching-colored extension cord. You could also buy fairy lights that run on batteries. They come in both regular-sized bulbs and small ones.
Use your imagination to hide and protect battery packs. Don't hang a battery pack against a wall because the wire could get ripped. Instead, use a strip of Velcro to stick it to the wall. Do you want to decorate a shelf or mirror with lights and want to hide them? 
 You can decorate the shelf or mirror and hide the battery pack behind something on the shelf or counter.
Outdoor lights are best for the porch or garden.
When decorating your porch or garden, choose outdoor lights. Not every light is suitable to stand up to the weather. Even if you live in a dry area where it doesn't rain or snow very often, you should still put up outdoor lights. Evenings and early mornings in many places are humid, and the dew that forms can cause standard lights to go out.
How to put up your fairy lights?
Once you've decided what kind of fairy lights you want, you need to figure out how you'll hang them.
Nails
To hang fairy lights, hammer a few strong nails into the wall at regular intervals. Between them, you can also put the lights. You can hang your fairy lights straight or in a zigzag pattern. Moreover, you can choose nails that are the same color as the wire of your fairy lights if you want them to blend in.
Sticky-backs
Thumbtacks are a great choice for people who want to save their walls from damage. They will give you strength and support, but don't damage their walls. Because they are easy to use, many people put them at the top of their list. Push the pins into the wall between your strands of fairy lights to make whatever pattern you want. Like with nails, it's easy to hide pins by making sure their ends are the same color as your wire.
Blu-tack
Many of us don't want any holes or marks on our walls after the holidays when we remove our Christmas lights. So, Blu Tack is an excellent way to hang fairy lights in a horizontal or curtain-like pattern.
You need to stick one of your lights to the wall, either by the bulb or the wire and let the rest hang down in a festive trail. Remember to use short fairy light lengths, as anything longer or heavier may fall off the wall.
Wire sucklers
Do you lack wall space? If you don't have a lot of space for Christmas decorations, wire suckers are a great alternative.
 You can organize suction cups using a pincher or hook and a suction cup. Besides, you can thread the wire through them to create "LOVE" letters or a Christmas tree pattern.
Clips of light
Light clips are a simple and lightweight alternative to suction cups. They have a split design. You can hang lights from curtain rails, pendant lights, and banisters. Connect one half to your decorations and the other half to your fairy lights. Next, you should determine how long you want the trail to be.
Sticky hooks
It's a great idea to hang your Christmas lights with Command hooks. Because when the holidays are over, you can take them down without leaving any damage.
They can handle a lot of weight because we can use them to hang artwork. As a result, you won't have to worry about using longer fairy light strings. Peel off the removable backs and press them against the wall where you want them to go. Wait an hour before using them to make sure they're stuck well.
How to Put Fairy Lights on a Wall?
These lights look great on the wall. Plus, you can use them all year long. The best thing about these fixtures is that they run on batteries. So, they don't need a plug, and you can bend or fold them as you want. In the same way, make a creative plan before you hang fairy lights on your wall. This video will show you how to put fairy lights on the walls.
Here are some designs you can use.
Hanging fairy lights to resemble curtains
Affixing photographs or Polaroids to them
Repeat them aloud.
Hanging lights made from mason jars
Decorative branches
Wall edging.
Use hooks that stick, like Command hooks. These hooks are unique because they are easy to take off and don't leave any marks on your wall. They are strong, but you can't use them more than once or move them to a different place. Another problem is that the hook loses its stickiness over time and can fall off.
You can stick your fairy lights to the wall with tape if you want to. They are trustworthy and won't hurt the paint. But to get rid of it, you need to use a blow dryer to loosen the glue.
Also, you should measure the distance between each hook to make sure they are all the same size for a uniform look. Once you've decided on the design, the easiest part is putting up the fairy lights. Here's a video that will help you do this.
How to Hang Fairy Lights Without Nails?
If you use nails to hang lights, they can leave holes in your wall. Because of this, nails aren't the best tools. If you want to keep your fairy lights in place, you could use Command adhesive hooks. They are strong and last a long time, and you can choose clear ones that go with any wall design.
Fairy lights are easy to bend and shape, so they don't always need extra things to hold them in place. In other words, you can hang fairy lights from picture frames or any other suitable location.
Since the leaves hold them up, trees are a great place to hang these lights outside. Use Blue Tack, a reusable putty that holds posters and picture frames in place. With Blue Tack, you can hang fairy lights on your walls without damaging them.
 Attach photos to fairy lights
You can make a creative display by attaching photos to strings of lights. You can create a zigzag effect by suspending a lengthy string of lights of a standard size. After that, attach photographs to the wires with the help of miniature clothespins. For bigger displays, you can also hang several rows of lights next to each other. Give the photos enough space between the rows. 
This picture will help to illustrate more.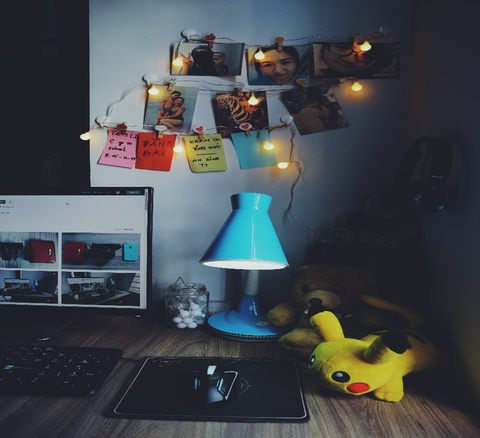 It is a great way to share memories at weddings, anniversaries, and graduations.
If you want to make your wall look nice:
Write words in cursive.
Write the word you want on your wall in cursive with a pencil.
Follow the lines you drew to attach the lights to your wall with nails or thumbtacks.
Space the nails where the curves and loops are tight. 
You can use this method to make a simple shape, like a heart.
You can use regular-sized lights or small ones for this.
How will you put art on the walls with fairy lights?
If you want wall art that sparkles:
Put fairy lights and a mirror garland together.
Put up a short curtain rod on your wall.
Wrap a rod with standard-sized fairy lights to hang down like icicles.
Use the same method to wrap a mirror garland around the rod. When you turn on the lights, the mirrors reflect the light and appear like glass.
You can use Christmas lights that look like icicles instead. They are already in the right shape, so you won't have to wrap them.
A mirror garland is a long piece of string to which you can attach small circles or squares of mirrors.
Put together several strands of lights to frame a wall. Using nails, thumbtacks, or wall hooks, you can attach the lights to the wall. Attach the lights to the side and top edges of the whole wall. Please don't put anything along the bottom edge of the wall where it meets the floor. 
Cross strands of lights across the ceiling of a hallway to make it brighter. Use nails or thumbtacks to put the lights on the ceiling of your hallway in a zigzag pattern. Start at one of the narrow ends and end at the other. 
Your ceiling will be brighter if you pin the strands close together. Use fairy lights with nets or lattices to save time. Make sure that the width of your porch or ceiling is the same as the width of the net.
You can use this method outside under roofs of porches. Make sure the lights are good enough to go outside. 
How to put up your Christmas lights on home objects?
The most useful Christmas decorations are fairy lights because we can use them in many ways. After all, it's not for walls and windows that can have a stylish design. Many parts of your home that you may not have considered can have an elegant design, and they do not need any support. Let your mind wander, but here are a few of the best ideas to get you started.
Home objects
There are times when you don't even need a hook to hang fairy lights. With a bit of creativity, you can wrap your lights around anything in your home, from paintings to vases to TVs. Another consideration is the location in which you want to place them. When using battery-powered fairy lights, it's easy to hide the battery pack.
Mirrors
Reflections are a simple but effective way to brighten any room this Christmas. Whether your mirrors are on the wall or freestanding, hang your fairy lights from the top corners. You can also use picture hooks. Blu Tack will create a warm and inviting space lighter than ever.
Mantlepieces
Last but not least, there's one place in your home where you can hang fairy lights without any hooks. Choose a design, like a disco ball or a star, and drape it from one end to the other of your mantelpiece. Then turn them on, turn down the main lights, and take in the atmosphere.
Conclusion:
We have certain ways to put fairy lights on the walls. These lights come in two varieties: those that plug into a wall socket and those that use batteries. First, make sure you have the proper lighting. The next step is to decide where you want to place them. Then you'll need to buy the various tools that we use when installing the lights.
People choose ways that work for them. Some people like to use nails to hang fairy lights on the walls, while others don't. Some small lights aren't as bright as some people want.
References
Anais. (2021, November 16). How to hang fairy lights on a wall? Anais and Reese World. https://anaisandreeseworld.com/how-to-hang-fairy-lights-on-a-wall/
How to hang fairy lights indoors. (2021, October 25). Homebase. https://www.homebase.co.uk/ideas-advice/christmas/hang-fairy-lights-indoors/
How to hang fairy lights. (2017, November 14). wikiHow. Retrieved May 12, 2022, from https://www.wikihow.com/Hang-Fairy-Lights