How will you put Christmas lights on a big tree outside?
It's not all about family, friends, faith, or giving at Christmas. Christmas is when most people from all over the world let their imaginations run wild. They can decorate anything with lights and colors that make them happy and sound.
Driving through a nice neighborhood at night with all the lights and decorations is fun. There is a list of popular public Christmas light displays in Dallas and Texas. If you are the type who likes the party, you might have some ideas for improving your home's exterior,Before you go outside and start decorating your tree, look at this picture.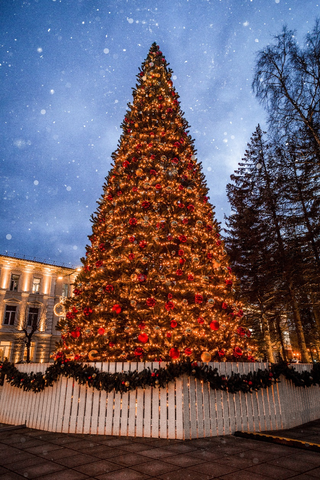 You might not use hanging lights on your own, so let's say you are not going to use them. Do you want to decorate tall trees with many branches with Christmas lights? Then, you'll need to think about what you want to do. You can visit our website for more extra information.
How to wrap a tree with Christmas lights?
Wrapping a tree or trees with lights is a simple way to change the feel of your outdoor space in any season.
What did you find in this post?
This post will cover how to wrap lights around large trees, bushes, and Christmas trees. A list of topics is below. You can look through each one or check the list to get to the section you want to read.
How much lights do you need to wrap the trees?
How to wrap trees?
When to Wrap a Tree with Lights?
How will you wrap the trunk in Christmas lights?
How will you wrap evergreen trees with Christmas Lights?
Lighting for trees and shrubs
How to Light a Christmas Tree Indoors
Hanging Decorations for Trees in the Outdoors
How much do outdoor Christmas lights cost?
How much lights do you need to wrap the trees?
The first thing you should do is figure out how many lights you need to cover the tree's circumference. There should be a space between each bulb on the string and how far apart you plan to wrap the light strings. A popular way to use LED mini lights is to cover the trunks and branches with a 6 "spacing between each bulb.
Divide the height of the tree by the number of wraps you want. Then multiply that sum by the circumference.
We have a 4' H trunk with a circumference of 2'. We want to wrap four of the stronger branches, which are 3'L and have a circumference of 6" around them. To figure out how many lights you need to wrap a tree, use the following equation:
If you have a 4' trunk with 3" spacing, you will get 32' of lighting.
12 x 6" circumference = 6' of lighting per branch if the branch is 3 feet long and 3 inches apart.
There will be about 56 feet of lights on the trunk and four branches.
Figure out how many lights you need for trees.
Tips for Wrapping a Tree in a Hurry
Most trees outside have branches that reach about 3 or 4 feet high. They wrap around the trunk up to that point. There is no need to cover every branch. It is best to choose the branches so that the light spreads out and looks good, not wrapped. It is all about how you wrap the branches. You should give a space 6-8 inches apart from each tree. If you want a more intense look, keep the lights close as you move up the tree. You may need a ladder or bucket lift and another person to wrap the tree.
How will you wrap trees with lights in a few easy steps?
To make sure that all the lights are working, plug in all the light strings. Then, wind each string into a ball. It is an important step. There are no strings to untangle, so it will save you a great deal of time in the long run, even though it takes only seconds.
Once the ball of lights is on the tree, start moving it around on the trunk. Keep the lights tight as you go to keep the string from sliding down the tree trunk.
Wrap the trunk and branches as high as you want after the first string. Tuck the end of your last string under a light wrap or attach it to a branch with a zip tie.
Wrap a tree with lights.
Connect the male plug on the male end of the light to a power source at the base of your tree. You can also buy pre-balled light sets. It will save you time.
If you want to wrap the lights back down, please make sure there is enough for this process.
You'll do this next step when you reach the end of your first piece of string. Wrap the next piece of string as high as possible around the trunk and branches.
It's time to secure the end of your last string. You can hide it under a nearby light wrap or tie it to the branch with a zip tie. It's done! You have wrapped the light around the tree.
Wrap the lights around the trunks.
It is easy to wrap trees with string lights. The way you did it above is very easy. This way, you can control how your trees look after completion. You can customize the lights' colors, the spacing between each wrap, and the type of light strings. It will create a unique look for your home.
You can also wrap them around the tree's branches higher up. It will make a tree look more interesting. You can highlight trees with string lights if you want complete control over your design. But this method can be pricey and depending on how many trees you wrap, the amount of time it takes could be a lot. If you have a shortage of time or a tight budget, then cover the tree with Christmas lights. It's a good choice.
A stretchable cord is woven into the net to create stretchable trees. That makes them able to wrap both small and large trees. Simple loop clasps hold the ends of the net around the tree. In this way, installation becomes simple.
Using string lights to wrap trees around their trunks is a popular way to decorate for Christmas. Some people prefer the subtle changes that come with hand-wrapping trees with lights. Make sure that you think about how to illuminate your trees when choosing how to do it.
Wrapping lights around trees
Evergreens are trees that keep most of their leaves through the winter. They include spruce, pine, firs, and other types. You can use our website to figure out how many light strings and what kind of bulbs you need. It is important to check the lights before you put them on, especially if you want to decorate a big tree with lights. It will be almost impossible to fix the lights when they are all on. There may be a need for 3-way splitters and power taps. If you want to move outlets up to tall trees,
Here are a few tips for wrapping evergreens:
Calculate how much power you will need for lights to ensure they don't go over the large thresholds.
Many people like to put C7 and C9 bulbs on big trees like evergreens and pines.
To get bright lighting, you can wrap the canopy of bigger trees. This way, you don't have to cover the top of the tree.
Use long poles to get to the highest parts of the tree.
Lights for trees and shrubs
Use Christmas net lights for trees and shrubs in the fastest, cleanest way. If you want to, wrap your bushes and hedges with outdoor tree lights.
Use a variety of patterns all over.
The source of power should be in the middle of long sections of hedges—string lights on both sides.
Wrap strings around the outside of the bushes, covering the top and about 3/4 of the way down the sides.
Keep it 1 foot from the ground so that the lights don't get wet or snowy.
How will you light a Christmas tree?
Indoor Christmas trees should have their wires hidden as much as possible. Instead of draping lights, wrap them around tree branches for more even lighting.
Please use mini light strings with a bulb spacing of 6–8 inches. It enables the wrapping of wires around branches.
Start at the bottom.
Leave enough space for the male plug to reach the power source.
In and out:
Weave the wire along the length of a branch, not displaying the wire at the tips. Reduce the depth to enough to accommodate the female end of the tree topper.
Decorating Trees with Hanging Décor
Play with tree lighting schemes by using different light colors and color combinations. It will make themed displays in your garden or on your lawn. Some mini light strings even have more than one color bulb on the same string. It will make it easy to get the right look for various holidays. During Halloween, people use orange and purple or purple and green lights. People also use red, blue, and white lights for patriotic displays. It's also fun to play with different colors, and you can hang a lot of other things from the branches.
How much do outdoor Christmas lights cost?
The joy and smiles that holiday lights bring are priceless. But, I'm sure you're curious about the cost.
How hard the project is and what kind of materials you use affect how much it costs. It is hard to give exact prices for all properties. It could cost anywhere from $500 to a few thousand dollars to put up outdoor holiday lights.
So, to give you a better idea of what it will cost, here's a look at how outdoor holiday lighting costs will change.
A big factor in how much it costs is how hard it is to do. If a project is hard and difficult, it will cost more.
It will cost about $500 to $1,000 to do a simple outdoor holiday lighting design on a small home. The price will go up if the work is more difficult.
People who build homes have a hard time if they want to put lights up high above them. It also affects the price. So, it will cost more to light a three-story house than a single-story house. The pitch of the roof also plays a part in this.
Things like snow and ice can make the roof dangerous in the winter.
People who care about safety won't even work in some homes. Our top priority is safety, and we don't want to risk our lives for a single customer.
Time and labor are important pillars.
It depends on the amount of detail and works required. For example, it takes more time to light dormers than it does to light a normal window.
The longer it takes and the more people involved, the higher the cost. Suppose you need one crew member to work on your project all day. The labor cost could be $300 to $500, plus the products you want to use.
One of the most time-consuming and labor-intensive tasks is wrapping a Christmas tree. The price for this will depend on how big the tree is, how high it is, and how you want to cover it.
It will cost less if you want the lights to swirl around the tree, not wrap around each branch. How much is it to cover a Christmas tree? The price ranges from $50 to $5,000.
What types of products do you use?
There is a simple rule for it. The more light and décor you want, the more it will cost you. So, a bigger project will cost more than one for a smaller house.
But, you also need to think about what kind of products you're going to put in the house. If you hire a landscape lighting company, they use high-quality holiday decorations. They aren't available at your local stores. These products will last for a long time.
Customers at landscape lighting have to buy some holiday lighting from us. Then, we put them up, take them down, and store them during the off-season. You don't need to buy other things. Make it clear to us which products you need and which ones you don't. This way, we can figure out how much you'll have to pay upfront.
The cost of outdoor holiday lighting will also depend on how far away the power source is from the lights. It will take more work and longer cords for power sources that are farther away.
Experience in the workplace
Hire a company that will do the job right the first time. You might have to pay for the project twice if you don't get the required installation. First, for them to put it in, and then fix what they did wrong.
We have a lot of experience with holiday lights, and we can make a plan that fits your needs. We will show you a design that includes your favorite holiday lights and décor.
Our lighting options include halogen and LED, which use less energy than halogen. But you should only use one type of light, not mix and match. The two types of light are very different, and we should not use them together.
People who say they can put up your holiday lights for a lot less than other people should be careful. That's because they're cutting costs in some way.
You need to find someone who knows how to install holiday lights. Moreover, you need a person who will take care of them all through the season. Before hiring workers, you should insure them.
Remember that anyone can put up Christmas lights, but not everyone can do it well. Make sure you put them up and be available to help if there is a problem.
It's best to hand over to the experts for outdoor Christmas light installation.
It will save you time, and it will also keep you from hurting yourself when you put up your holiday decor.
Sumary
We can conclude that Christmas is an event when people install different lights on trees. They do this work to make this event lively. There are specific techniques for installing these lights on trees. We have described all the ways and precautions we need to adopt while putting the lights on trees. Outdoor lighting is critical because people enjoy looking at outdoor decorations. People become happy to see the outdoor lights. To light up the trees, we should follow the steps mentioned before.
References
How to put Christmas lights on a large outdoor tree. (2019, November 24). Ryno Lawn Care, LLC. https://www.rynolawncare.com/how-to-put-christmas-lights-on-a-large-outdoor-tree/
How to wrap a tree with Christmas lights. (2021, November 26). Christmas Lights, Etc. https://www.christmaslightsetc.com/pages/Wrapping-Trees-with-Lights.htm
Rosser, K. (n.d.). How much does outdoor holiday lighting cost? Landscape Lighting Pro of Utah | Outdoor Lighting in Salt Lake City. https://www.utahlights.com/blog/how-much-does-outdoor-holiday-lighting-cost