How to hang string lights on the ceiling without nails?
Lights can elevate any room to the next level. You will make your house look festive and cheery this holiday season. Or you'll try to add a little something extra to the presentation. You might already know what the project will look like after completion. You might think it is beautiful, peaceful, exciting, or a source of inspiration. Using powerful equipment and punching holes in the walls prevents you from doing it. Putting lights on the ceiling will give a great glow to the room.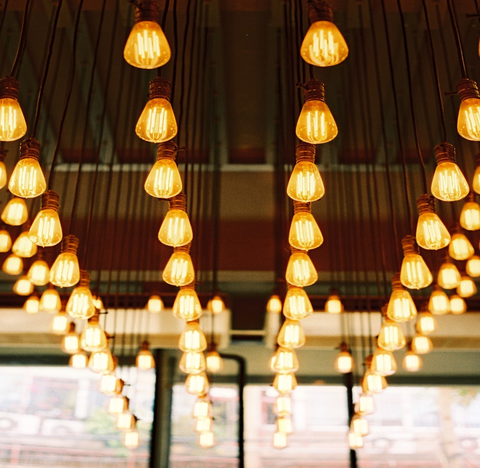 People think hanging string lights on the ceiling without nails is challenging. But you can put them if you follow the proper steps. You have come to the right place if you wonder how to hang lights in a room without using nails. This post is for you, so please read it. You will also receive extra posts on our website relevant to the lighting. You can go for a greater variety of fascinating articles. 
How can I hang lights without using nails on the ceiling? 
You can hang lights without a hammer using your imagination and a little effort. If you want to put light without stress, try these simple methods. To learn how to install lights on the ceiling, you should watch this video.
Use adhesive clips
Damage-free adhesive hooks or clips let you decorate hallways without nails or stress. Depending on your needs, different adhesive hooks are available. Some can support more weight than others. They're great for candy cane and snowflake wreaths and light strings. For banners, garlands, and fairy lights, small hooks are ideal. Peel off the backing and position it where you want to put it. After this, stick it to the wall, and now there is a new look in your room.
Drape on furniture
There is no hard and fast rule that states you can only hang lights from the ceiling or the walls in a room. Draping lights over furniture can help illuminate the space without any extra supplies. Choose a sturdy piece of furniture near an electrical outlet, and then grab your lights to set them up. You can add even more holiday cheer to your space by draping lights over furniture. You can also use them for bookcases, coffee tables, nightstands, TV stands, and dressers. Because it is so simple, you may decide that you will never again use nails.
Wind yourself around the banisters
Use string lights to illuminate the path to your children's bedrooms. It will make the holidays magical. Wrap them around your staircase banisters to greet your kids as they go to bed. Putting lights around the fence is quick and easy if an outlet or extension cord is nearby. Organize them as they're not trip hazards to make decorating easy for holidays.
Make use of the brick and brick clips.
You can display stockings on the mantel of your fireplace. You can use brick clips to suspend rope lights from the brick of your fireplace. It will refresh the living room. These clips have a unique characteristic that allows them to adhere to bricks. Standard clips will make this difficult to achieve. No damage or residue will remain behind as a result. These clips come with one or two hooks to connect the colorful lights. They will add a little extra cheer to your entire home.
The HolidayPort USB Christmas Light is the perfect way to finish off your string of lights. When you turn this light on, you'll see a dancing Santa and snowman above your fireplace mantel. Place yourself in front of the fire, plug the light into any USB port, and enjoy hot chocolate with holiday songs. Santa and snowman decorations will transform your space from cozy to festive.
From a curtain rod
Utilizing items around the house for various tasks will help you get the most use. For example, you have only ever used curtain rods to hang curtains. You can also put lights on them because they work so well. You can either secure the lights in place by wrapping them around the rod or using a few zip ties to do so. With this one simple change, you can turn your cozy spot by the window into a magical land in a moment.
It appeared, and then it disappeared again! Using clear tape makes it look like your string lights stick to the walls. Support your lighting with the strongest regular or double-sided transparent tape. Some can support up to 15-pounds and are resistant to all types of weather. With the help of these tapes, you won't have any trouble at all hanging lights on your balcony.
When you are using tape, make sure to only apply it to the wires of your lights and not the bulbs themselves. In this manner, it is impossible to conceal your lights and the significant impact they can have on set. The disposition will not diminish.
Wrap around various items found in the home
When it comes to dangling lights in a room without using nails, every item in the house has a use of some kind. In the same way, you can wrap lights around fences, curtain rods, and furniture. You can also put them on other things you find around the house. No law says you can only hang lights on walls. Your imagination should be free to run wild.
Staples, Inc.
You want to hang lights in your room, but you do not want to damage the walls by using a hammer and nails. In this scenario, you might be wondering how to hang lights without using nails. But you don't mind making holes in the wall about nail size. You do this because you think these holes will be easier to fix and less evident than a nail. Using staples to attach the string lights to the wall is one possible solution if this is the case. The procedure takes very little time and causes very little damage to your walls. Most staples won't differentiate from wires or interfere with transportive lighting.
Do you know how you have a bunch of pushpins in a junk drawer that you haven't used in decades? So putting them to use in nail-free lighting is the ideal application for them! Pushpins may be small, but they pack a powerful punch. It is simple to insert them between the entangled wires of fairy lights and string lights. They are examples of objects that are not weighty enough to pull a pushpin out of its hole.
You can find brass, colored plastic, clear plastic, and even fun-shaped pushpins. They leave behind a few holes in the wall. These holes are less noticeable and simpler to repair than those left by nails. You can leave your lights on throughout the year or switch them out to better fit the occasion of each holiday. 
Adhesive putty is reusable and tacky. Blu-Tack can hold small items without damaging the wall or leaving holes behind. When used with fairy lights or other lightweight items, it functions most. Press the wire or LED bulbs themselves into the putty at intervals to use it. You must give them space apart. After pushing the putty onto the wall, you can proceed to turn the lights on. You will be able to transform the room into a beautiful space. In this process, you can change your mind to something more tranquil.
Suckers made of wire
When hanging long string lights, you should not allow windows to get in the way. You can put lights on any occasion by pressing hooked wire suckers. These window suction cups are essential. There are many colors to choose from when it comes to these suckers. First, decorate your home with red and green LEDs to welcome Rudolph and his friends. When Valentine's Day arrives, replace these lights with heart-shaped lights. They will make your special occasion remarkable.
Galaxy projectors
There are methods for hanging lights in a room without nails besides string and fairy lights. Galaxy projectors are another option available to you. They can cover 900 square feet of wall or ceiling space from fewer than 10 feet away. This level of coverage provides more than light. It allows you to immerse your area in distinctive colors and images completely. They will give a beautiful look.
The Sky Lite 2.0 is an excellent example of this. It can add sparkling stars and multicolored nebula clouds to any party or evening. They will mentally transport you far beyond the confines of this planet. One tap on your phone's display is all it takes to make the desired changes to the colors, patterns, and effects. Then, take a seat, relax, and allow your lighting to transport you to faraway lands. Without using any hammers or nails, you can do it.
What are some alternatives to using nails when hanging lights on a ceiling?
Gluing on hooks is one of the quickest and easiest ways to install patio lights. It is because it eliminates the need for nails. To do this, you won't need to use any glue. Rather than doing that, all you need to do is buy adhesive hooks from Amazon, such as these Command Wire Hooks.
Is it possible to suspend lights from the ceiling?
You might think it's hard to hang a pendant light or something else from the ceiling. In reality, it is not particularly difficult. You will only need a few simple tools and a short amount of time to complete this project. If you are the property owner, you can install a light fixture into the ceiling.
How exactly do you string up the fairy lights?
You can use hooks for transparent walls, nails, or thumbtacks to hang the lights.
Adjust the color of the nail or thumbtack to correspond with the color of the wire.
Hammer the nails or use the thumbtacks to secure them between the twisted wires. Never put them in danger by driving them through the wires.
How can you hang lights without having to make holes in the wall?
Use hooks rather than drilling holes in the concrete or stucco.
Hooks for gutters allow homeowners to suspend Christmas lights from any drain system.
Magnetic Hooks are available for use. Homeowners can avoid drilling into stucco walls by using magnetic hooks.
Hooks that attach to suction cups
How do you hang the fairy lights if you don't have any hooks?
There are various options available for hanging or displaying fairy lights.
We are wrapping around various items found in the home.
Adhesive Hooksthat Do Not Cause Damage
How exactly do you hang lights from the ceiling of an apartment balcony?
You can use adhesive hooks to suspend your light fixtures as a stopgap measure. Attaching adhesive hooks to your balcony walls and supports is a nail-free way to hang lights. You can do so by pressing them into the place. You can suspend your outdoor lights from the hooks rather than nailing them into place.
Is it possible to use nails to hang string lights?
String lights have more power and are heavier than traditional bulbs. They appear more shabby and out of date. The number of bulbs along the strand is decreasing. To hang them, you will need nails or a staple gun in most cases. You can buy these in your neighborhood at Lowe's or Target and online.
How exactly do you hang Christmas lights?
Continue reading to discover some of the inventive options for displaying fairy lights.
Simulate an actual blaze.
Establish immediate lighting for specific tasks in a kitchen.
Bring some light into a dull nook.
Add more vibrant colors to a child's bedroom.
String festoons between rooms.
Bring attention to a motif.
Use the furniture as a focal point.
Affix some lights to the top of your headboard.
What is the most effective method for hanging fairy lights?
Install the lights in the manner of your choice. First, secure them to the top of the curtain or window, and then hang your curtains in front of them. The process of suspending Christmas lights without nails needs no effort or discomfort. You can choose the brand of damage-free hanging hooks that you want to buy. Check that your walls are clean and have no moisture on them. Wrap or arrange the fairy lights to hang from the hook.
How should Christmas lights be strung up for the best effect?
You can use hooks for transparent walls, nails, or thumbtacks to hang the lights. What you use to put the lights depends on what you intend to do with the lights. Clear, self-adhesive wall hooks protect mirrors, shelves, and other surfaces. You sometimes called command hooks.
How can you ensure that the string lights stay attached to the wall?
Use nails, thumbtacks, or wall hooks to secure the lights to the perimeter of your desired wall. Secure the lights to the side and top edges of the wall; leave the bottom edge along the floor empty. It is most effective with string lights that need an outlet connection.
Can you put fairy lights around a fireplace?
Light up the fireplace with fairy lights and candles. It will produce a beautiful scene. Do you want to decorate the mantle with fairy lights? This trick will make your fireplace fantastic. You use them as fireplace lighting to create a romantic and captivating look.
Summary:
The best method is to hang the string lights on the ceiling without nails. It will protect the paints and walls in your home from damage. There are specific orders by which you can hang the lights across the ceiling. To install the lights on the vault, you need a few tools and others. We ought to compile a list of things for the installation process before lighting. When installing, we need to make sure that we follow all the steps. This post has discussed the most popular twelve methods for installing lights.
References
12 ways to hang outdoor patio lights without nails. (2021, January 13). Interiors Place. https://www.interiorsplace.com/12-ways-to-hang-outdoor-patio-lights-without-nails/
How can I hang lights on my ceiling without nails? – Morethingsjapanese. (n.d.). Morethingsjapanese – Helpful Blog for everyone. https://morethingsjapanese.com/how-can-i-hang-lights-on-my-ceiling-without-nails/
How to hang lights in a room without nails: Try these 12 ways. (2021, November 30). BlissLights. https://blisslights.com/blogs/blisslights/how-to-hang-lights-in-a-room-without-nails